Water Damage Restoration in Murfreesboro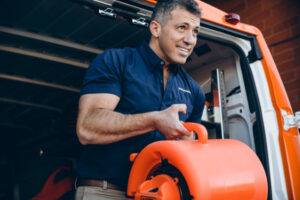 From heavy rains during spring and summer to frozen pipes in the winter, your Murfreesboro property is at risk for water damage all year round. Even a broken dishwasher or overflowing sink can be a greater hazard than you might expect. No matter the cause, you'll need to address it right away before you're eventually left with a rotting structure or nasty mold infestation.
Fortunately, you can always count on 911 Restoration of Murfreesboro for all of your water damage restoration needs.
As a locally owned and operated franchise, we are fully licensed, bonded, insured, and staffed with IICRC-certified technicians to ensure complete protection and high quality same-day service. And because our phone lines are open 24/7/365, they can be at your front door within 45 minutes of your call. Our team's combined experience means that they've seen and fixed it all when it comes to water damage disasters, such as:
Leaks and cracks
Clogged gutters
Frozen or burst pipes
Broken appliances
Damaged pipes or hoses
Flooded basements
Storm damage
Furthermore, we provide our on-site professionals with the best equipment and materials they need to repair and revitalize your home or business. All of this enables them to easily detect the source of your water damage and make it look like nothing ever happened. And you can rest assured knowing that, from the moment you call us, we will handle your case with complete sensitivity and professionalism.
You can't waste a minute when indianapolis natural disaster 2021 strikes, so call 911 Restoration right away and let us bring your water-damaged property back to like-new condition.
A water-damaged ceiling.
Providing You With High Quality Water Damage Restoration Services
Just like all of its other services, 911 Restoration of Murfreesboro provides a free visual inspection (for property owners only) to determine the cause of your water damage. Once we've determined what's wrong, we come up with a specialized plan for your specific case and keep you completely up-to-date on our progress and any changes that we've made.
Our professionals quickly vacuum up all the loose water and get everything dry with their high-powered blow fans. We then take every possible precaution to contain the damage as we restore your property, even going so far as to board up your windows, doors, and roof. We also carefully pack up and store away all at risk items, and can bring in and restore anything we find that's still salvageable.
Our experience allows us to multitask even as we fix cracks and broken pipes, perform needed structural repairs, and replace any materials that are too badly damaged. Throughout our restoration process, we thoroughly check for any signs of mold and remove any outbreaks as soon as we find them. And once we've sanitized your property and removed all lingering odors, you'll be left with a truly Fresh Start.
Don't entrust your Murfreesboro home or business to just any company during a crisis. Turn to the highly-trained experts at 911 Restoration for fast and thorough emergency services.
A restoration worker vacuums up water from a grey floor.
We're Here For You Every Step of the Way
Here at 911 Restoration of Murfreesboro, we're not content with just fixing your property and calling it a day. We believe in going above and beyond for all of our customers, whether it's aiding them with finances or just being there to address their concerns. We've built our success on creating strong relationships with our communities and helping those who need it most, and that's exactly what we'll do for you.
Along with our free visual inspection, we'll also provide you with a free insurance consultation to let you know what's covered and what your best options are moving forward. From there, we'll guide you through the entire claims process and even bill your company directly. We understand that you have a lot to worry about right now, so we're here to lighten your load however we can.
In addition, our experts are more than happy to provide you with useful tips for preventing damage in the future. Depending on what you've just experienced they might suggest:
Trimming nearby branches
Cleaning your gutters regularly
Learning where your shut-off valve is
Insulating exposed pipes during winter
Installing a leak detector
Of course, if any preventative maintenance is still needed in the future then just give us a call and we'll be right there within 45 minutes.
911 Restoration provides water restoration to all property owners in and around the Murfreesboro area. Call us today to learn more about how we can give you the Fresh Start you need.
Three 911 Restoration vans parked outside surrounding a green dumpster.
Serving the communities of La Vergne, Murfreesboro, Rockvale, Smyrna and surrounding areas