Disaster Restoration in Murfreesboro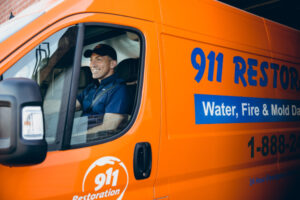 Natural disasters are a major concern for property owners all across the country, including right here in Murfreesboro. Between flooding, fires, and the occasional tornadoes and earthquakes, your home or business is at risk all year round. And no matter how much you try to plan ahead, it feels like you're never fully prepared for when the worst happens.
When your property sustains major storm or fire damage, you can always rely on 911 Restoration of Murfreesboro for all your disaster restoration needs. Because emergencies can happen when you least expect, we keep our phone lines open 24/7/365 so we can send a team of experts out to you within 45 minutes of your call.
We make sure that all of our technicians are IICRC-certified to ensure that they are highly experienced and extensively trained in all forms of restoration. Our services truly run the gamut, allowing us to put them to their full use when you're faced with:
Storm damage repair
Comprehensive structural repairs
Permanent odor removal
Because we're locally owned and operated, our staff knows exactly what to expect from the local climate and how to best restore and safeguard your property. They act quickly and thoroughly to contain the damage, make all necessary repairs and reconstructions, and ensure that everything is safe. And, of course, you'll be treated with the utmost professionalism and compassion from the moment you call us.
911 Restoration of Murfreesboro provides emergency restoration services after all natural and manmade disasters. Call us today and give yourself a much-needed Fresh Start.
Providing Emergency Restoration Services Any Day At Any Time
If your home or business is being hit by any type of disaster, your first priority should always be to get to safety. Once the danger has passed, and you've spoken to the local authorities, call 911 Restoration of Murfreesboro right away to start repairing your property and your life.
After completing their free visual inspection, our disaster restoration experts remove all hazards before getting to work on restorations. These can include:
Loose water
Black water and sewage
Mold infestation
Ash and soot
Leftover smoke
Fire retardant chemicals
Other hazardous waste
Our team then performs all structural repairs, replaces damaged materials, and can even come up with a rebuilding strategy if your property has been destroyed. They also take the time to put in extra reinforcement so that your property is less likely to be damaged by the next incoming storm or earthquake. And once everything is sanitized and deodorized, you can rest assured knowing that your life is returning back to normal.
Reach out to 911 Restoration of Murfreesboro and learn more about how we can help you after disaster-related property damage.
We're Here To Give You A Fresh Start After Disaster
Our staff at 911 Restoration of Murfreesboro knows first-hand how stressful and upsetting it is to experience property damage. And when you've just survived a major disaster, the fallout is that much more overwhelming. That's why we go above and beyond to help our customers in any way that we can, whether it be with repairs, finances, or just basic moral support.
During our free insurance consultation, we'll go over what's covered and what your next steps should be moving forward. We'll guide you through the entire claims process, help you with the complicated paperwork, and bill your insurance company ourselves. With the added stress off your plate, you now have more time to focus more on getting everything back in order.
Although we can't prevent disasters from happening, our on-site staff is still happy to provide you with helpful advice for making your property safer. They'll customize their tips to your specific needs and can even direct you to where you can find necessary supplies. And if you need extra help keeping everything in top condition, they can also come back to provide preventative maintenance at your request.
From day one, we at 911 Restoration of Murfreesboro have treated all of our customers as if they were our neighbors. We help them through many of their worst times and put their needs first from the moment they contact us. And no matter what just happened to your property, we can guarantee that we will do the same for you.
If your Murfreesboro home or business is hit by any kind of disaster, call 911 Restoration right away.
Serving the communities of La Vergne, Murfreesboro, Rockvale, Smyrna and surrounding areas