Sewage Backup Cleanup in Murfreesboro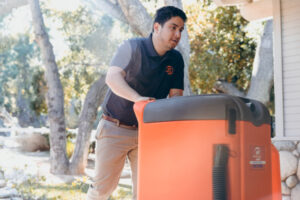 You never want to think about your sewage system backing up and making a mess of your Murfreesboro home or business. Aside from being gross, it can rot your building's structure, cause a potential mold remediation greenwood outbreak, and bring in hundreds (or even thousands) of disease-causing parasites. Butt when it does happen, you'll need a team of professionals who can get there quickly and restore your property
So when you have to act fast and don't know who to turn to, let 911 Restoration of Murfreesboro be your go-to source for sewage backup cleanup. Emergencies often happen at the most inconvenient times, so we're always on-hand to help whenever you need us. Our 24/7/365 availability allows us to send a team out to your front door within 45 minutes so we can get right to work immediately.
Aside from being fully-licensed, bonded, and insured for your protection, we make sure that all of our technicians are IICRC-certified and trained to follow strict CDC and EPA standards. Restoring your property after sewage backup requires extensive experience in both water damage indianapolis and biohazard cleaning services. With their knowledge, certifications, and history, our on-site staff will bring your home or business back to like-new condition in no time.
As with all of our other services, we provide all property owners with a free visual inspection to help ease the financial burden. Upon finding the cause of your sewage backup, we set up a strategy for your specific case and keep you up-to-date throughout the restoration process. And, of course, we handle each case with the same level of professionalism and sensitivity that our customers have come to expect.
Reach out to 911 Restoration of Murfreesboro today and let us take care of all your sewage cleanup needs.
Providing A Truly Fresh Start After Water Damage and Sewage Backup
If you discover sewage backup on your property, don't attempt to fix it or clean it up. Just leave it alone, keep all people and pets away from the affected area, and call 911 Restoration of Murfreesboro right away.
Our experts will get straight to work as soon as they arrive at your property, taking every precaution necessary to protect themselves and you. They start by vacuuming up all the black water, cleaning and disposing of biowaste, and drying the area completely to prevent additional water damage. While addressing the cause of your backup, they also check your structure's condition and make all the necessary repairs and replacements.
Once they're almost finished, these experts sanitize your property and remove all lingering odors. By the time they've finished, and it's safe for you to re-enter your home or business, you'll start to wonder if anything actually happened.
When you're in need of black water cleanup and structural repairs, 911 Restoration of Murfreesboro will be right there to give you the Fresh Start Experience you desperately need.
How Do I Prevent Sewage Backup From Happening Again?
Once you've already experienced a sewage backup, you don't want to go through another one. 911 Restoration of Murfreesboro will restore everything completely, but proper maintenance is still needed in order to prevent this kind of indianapolis natural disaster 2021 from happening again. That's why our experts will gladly advise you on how to avoid a second one.
Depending on how your specific sewage backup started in the first place, our technicians might suggest:
Trimming nearby tree roots regularly
Only flushing human waste and toilet paper
Properly disposing of grease and harsh chemicals
Removing all non-porous landscaping
Switching over to plastic piping
Installing a backwater prevention valve
It's also important to learn more about the city-wide sewage system and how well it's maintained. If you suspect that it's been improperly maintained and caused your backup, then notify your local officials.
No matter how your sewage system became backed up, 911 Restoration of Murfreesboro will always provide you with professional and compassionate service. We understand how much these events disrupt your everyday life, and we won't be satisfied until we've restored both your property and your peace of mind.
911 Restoration is here to help all Murfreesboro-area property owners with their sewage woes. Contact us today to learn more about our commercial and residential services.
Serving the communities of La Vergne, Murfreesboro, Rockvale, Smyrna and surrounding areas