Mold Removal in Murfreesboro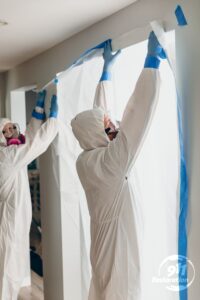 When any kind of water damage goes unaddressed, you'll be left with a mold outbreak on your Murfreesboro property. Sometimes the previous owners either never spotted the infestation or just ignored it completely, leaving you with a nasty moving-in gift. And while you might be tempted to remove it yourself, the act of cleaning mold can actually release spores into the air and spread the outbreak around your property.
If you find an infestation in your home or business, leave it alone and call 911 Restoration of Murfreesboro right away for emergency mold removal indianapolis in. Our 24/7/365 availability allows us to send a team out to your property within 45 minutes of your call.
All of our IICRC-certified technicians bring years of training and experience to the table, enabling them to bring your property back to like-new condition. They always start off with our free visual inspection, just like all of our other services, and provide you with a complete rundown of our upcoming remediation process.
After being in the restoration business for almost two decades, we know just how badly an outbreak can damage your health, your safety, and your property value. When you need to keep your most important assets safe and intact, know that we'll be there right away with our emergency mold remediation.
Call 911 Restoration of Murfreesboro today, and let us give you the Fresh Start you need after a mold infestation.
Can A Mold Outbreak Be Hazardous To My Health?
Although most types of mold aren't dangerous to humans, prolonged exposure can still impact your health in many different ways. If there's been an outbreak on your property for days, or even weeks, then you or others will typically experience:
Sneezing
Nasal and sinus congestion
Coughing
Irritated throat
Watery eyes
Wheezing or chest tightness
Skin rashes
Mold can be particularly hazardous to those with sensitivities, breathing ailments, or compromised immune systems. Other types such as black mold, or stachybotrys, release mycotoxins into the air which are believed to cause anything from headaches and nosebleeds to memory loss. However, more recent studies haven't found a clear link between mycotoxins and these particular symptoms.
Yet even if mold doesn't seem to be affecting your health, it's still affecting your property in ways you won't see at first. What starts off as just an ugly little infestation will cause your building's structure to weaken and rot as it spreads. Over time, you'll be left with a structure that's completely uninhabitable and hundreds of thousands in losses.
That's why it's so important to reach out to 911 Restoration of Murfreesboro as soon as you find mold. We understand the value of protecting an asset, and everyone who relies on it. Here, we think of all clients as our neighbors and treat each property as if it were our own.
Don't wait for mold to get even worse. Contact 911 Restoration right away to restore both your property and your peace of mind.
Providing Fast and Thorough Mold Remediation and Water Damage Restoration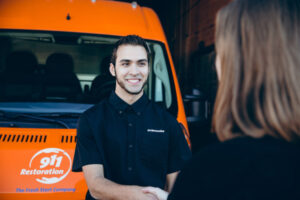 We at 911 Restoration of Murfreesboro pride ourselves on our same-day service and constant professionalism. From the moment you call us until long after we've left the scene, you can rest assured knowing our team is there for you.
During our free visual inspection, our mold remediation experts will check around your property to make sure that other outbreaks aren't forming. They then get to work using everything from antifungal chemicals to remove mold and air scrubbers to catch and remove mold spores. They take all necessary precautions to make sure that it's contained, keeping your home or business safe as they work.
Our experts will also address any water damage company indianapolis left behind by drying the area completely, performing structural repairs, and replacing your drywall, flooring, or insulation if they're beyond repair. And, if you're extra concerned about the type of mold growing on your property, we can arrange for third-party lab testing to help put your mind at ease.
911 Restoration provides mold restoration services to all commercial and residential properties in the Murfreesboro area. Call us today to learn more about how we can help.
Serving the communities of La Vergne, Murfreesboro, Rockvale, Smyrna and surrounding areas